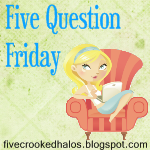 Rules for 5QF: Copy and paste the following questions to your blog post, answer them, then watch for the linky post to appear Friday morning and LINK UP! (click photo to go to the FQF blog)
1. Do you swim in the winter?
NOPE ~ Although I do love watching the polar club ~ while drinking hot cocoa
2.
Do you love or hate winter?
LOVE ~ I love that I live in a state that has ALL 4 seasons. I love each and everyone one of them. After living in Arizona for a year I grew to appreciate the changing of the seasons!
3. D
o you put makeup/actual clothes on when you know you're going to be home all day with just family?
Hahahaha I barely put makeup on EVER! on really cold days where I just have to drive the kids to school I will stay in my nice warm pj pants!
4. H
ow old were you when you had your first alcoholic beverage?
I think I was 19 ~ it was wine with dinner ~ trust me I was never a drinker. In fact my hubby laughs that he married such a feather weight!
5. How many ill calls in a 12 month period do you think are acceptable?
As I am a stay at home mama - I can have as many as I want! At the same time though, I also don't get the luxury of staying IN BED. I have to cook, clean and care for the kids no matter what. I only get to put off a few of my other chores and take mini naps when I am sick - so its both better and worse then other people get.